(Written by Corey V.)
Gloomhaven is here and what a splash it's making!
Coming off the wave of it's second immensely successful Kickstarter by designer Isaac Childres, this game is touted as one of the most satisfying cooperative board game experience you and up to three other friends can have.  Snatching up 6 Golden Geek awards in 2017 and holding the number 1 spot as Best Overall Board Game for most of 2017.  This is definitely not a game to be taken lightly!
..Speaking of lightly, the packaging is most certainly not.  21 lbs..  TWENTY-ONE pounds!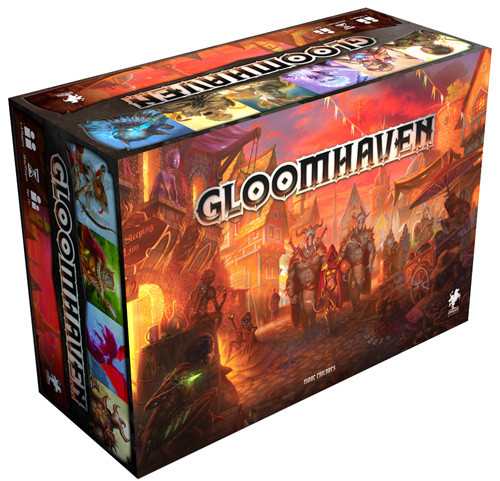 Within this box is 95 unique playable scenarios, 17 playable classes, and more than 1,500 cards, over 230 monsters.  This equates out to hundreds of hours of replay for you and your friends! You as a wandering adventurer must work together with your group to clear waves of monsters, vermin and evil do-ers to explorer ruins and dungeons.  All the while upgrading your skills through experience and looting what you can. A constantly evolving story-line takes you from one location to another, your party honing their combat skills being able to topple the bigger and the badder.  After each scenario you choose your path leading you to another in a choose your own adventure style of fluidity to help shape the future of what lies in front of you.
Game length averages from 60-120 minutes and progresses along a legacy system to keep things fresh and engaging.  For 1-4 players but recommends 3 for the peak player experience.
I really can't say enough. If you enjoy sophisticated story driven dungeon experiences with satisfying combat with your friends and have a night to hang out.  This is truly worth a look!
The game is available here for purchase and I hope you enjoy it!
(Originally posted on Kryptonitekollectibles.com)